Well.......... this is what the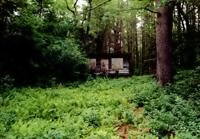 old cabin looked like when we started construction. It sure was not much to look at and almost invisible under the growth of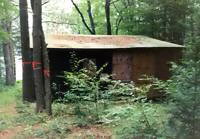 saplings and brush! You can see the lake in the background beckoning you for a swim. It was real "Quaint" as in no running water.... No electricity and NO PLUMBING. OUT HOUSE CITY!! Looking back on the cabin from the lake it did not look much better. The boarded up windows are a nice touch though. Looks a little homey... NOT.... This is what is called a real fixer upper in the real estate business (right Pamie?) In other words a real candidate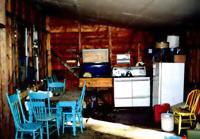 for dozerville. Squash and remove!!!!! WOW now isn't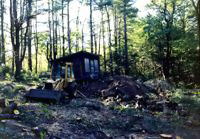 this comfy. The kitchen makes you real hungry doesn't it??? I like the blue table and chairs. It adds a little "color" to an otherwise DULL room Hey this looks like my old room in college back at Hillbilly U. Now we're cooking. No longer is it just a cabin in the woods, now it's a cabin in a clearing with machinery and a big hole next to it! A BIG improvement and just a hint of what is to come next!! Here go the basement forms. You should have seen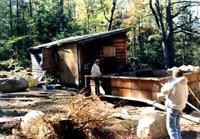 the concrete truck winding through the trees. It would have been nice to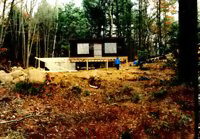 hear how he explained all the tree branches in the hopper when he got back!!!!! Once the foundation was in, Brad took over with hammer and sweat. Both he and Phil lifted the old cabin, moved it over a few feet, and turned it just a tad so that there was a better view of the lake and set it down on the new foundation!!!! Herculean efforts on both of their parts!!!! Thanks !!!!!! Now comes the magic hammer of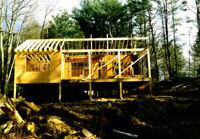 Brad.... Just like the magic hammer of that other great one, Thor,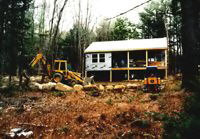 Brad performs like the true artist that he is. Working virtually alone AND answering stupid questions at the same time. Sorry about that Danny. Yes I know you helped too. NO it is still not measure once cut twice either!!! The new cabin rises from the rubbish pile. Like a Phoenix, the beast starts to become a true beauty!!!!! Now it looks like home.... almost.... There is a big difference with a roof on and the ornamental clapboard installed. The front porch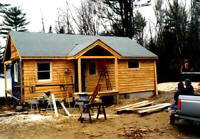 was an after thought and a nice addition to the facade. IT still is only a cabin after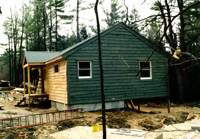 all!! You can see the completed septic system on the side of the cabin.... YES Toto, there will be inside plumbing now!!!! No more trips outside in the cold and rain trying to outrun the black flies!!! Now I get to do my thing... After all I did paint T.J's place. Sara picked out the color and I went up and slapped it on..... Literally. The weather turned cold on us and I only had the opportunity to finish two of the sides. Oh well what can you expect in December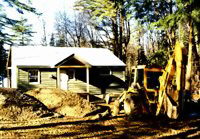 in New England That is snow on the roof in the photo on the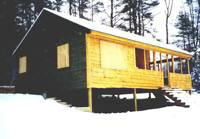 right!! Burrrr time to head South for the winter.... It's too cold for me!!!!! Bye Bye....... This is what it looked like at the start of winter from the lake side. The large open area is the screened porch which is the same size as the kitchen and living room combined and looks out over the lake..... ALL RIGHT I KNOW IT'S A POND..... but it's a BIG pond !!!!! The winter was a rather mild one for New England... Or so I'm told ...Ya think I'd be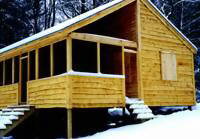 there with SNOW!!!!!! Not till the wood stove is in and then only for a little while.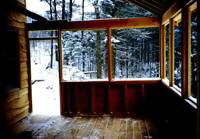 Where's the beach!!! Brad worked through the winter finishing up the exterior when the weather permitted and he even finished the interior pine paneling and the floor. The cabin got buttoned up for winter with the shutters and is waiting for us to come back and finish the final bits to make it a real place again!!!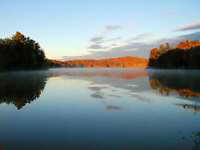 I CAN'T WAIT.
SEE Y'ALL THERE THIS SUMMER !!!!!