This is what the 74 Rover looked like when I bought it from the estate of the original owner... Not too shabby. At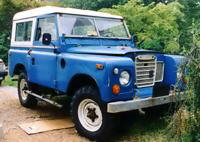 least on the outside it doesn't look too bad... Does it??? Well after all it is a one owner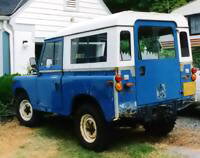 car with less than 10,000 miles on a completely rebuilt engine, including a NEW head. The original owner could not get a new Rover in the US back in 1974 because Land Rover had stopped importing them SO he special ordered a US equipped one from the factory and went to England and picked it up himself. He MUST have taken care of it if he wanted one THAT BAD!!!. He even kept the factory production record sheet. I thought that all I would have to do was touch up the frame a little and my smiling face would be behind the windshield in no time........
Boy was I in for a BIG surprise. One thing led to another and before too long I had a VERY LARGE pile of parts and an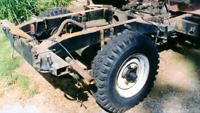 extremely rusty frame to deal with. I welded on all new outriggers as the originals were just ab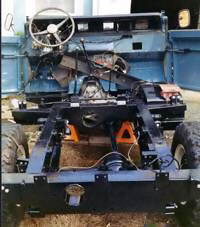 out rusted through. I cleaned all the rust off of the frame and covered it with 2 part epoxy paint then a covering of rubberized undercoating just to be on the safe side.... I really did not want to see the frame again after all of this. Then I figured that I might as well take a look inside the transmission and diffs as they were just setting there and very accessible without the body in the way.
Whoa BIG MISTAKE!!!! When I pulled the pan off of the transfer case there was a mangled stud and several teeth that just fell out on the ground. BIG BUM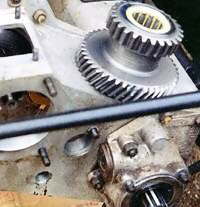 MER. I knew that I was in for it then!!!! I'm sure glad I bought a complete factory service manual and a parts catalogue because I was going to learn a lot about the inside workings of a Rover real quick. Luckily I had also bought a complete set of whitworth sockets and wrenches 'cause I sure was going to need them NOW!!! When I removed the differential there were 4 teeth missing from the ring gear!!!! I wondered what in the world did this other owner put this poor Rover through anyway to break that many teeth?!?!?!?!? After all it is a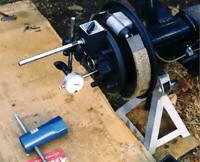 one owner car with only 90,000 miles on it and the other owner WAS a college professor not a cowboy.
Oh well, it was a good excuse to put in an ARB air locker in the rear diff, along with new half shafts, bearings and seals. Not to mention the new copper nickel brake lines and stainless braided hoses. Oh yea and the new wheel cylinders, brake shoes, master cylinder, as well as new clutch slave and master cylinders, springs, shocks, outriggers, swivel pin housings, steering arms, ..... Oh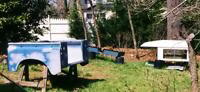 yea .... and the new overdrive...... Well you have to be able to go faster than 45 mph now don't you?!?!?!?! AND there was no way that I needed a power take off on the Rover. After all I won't be doing a lot of farming here in town and I didn't buy the hay bailer that went with the Rover. But it is a one owner car after all, I keep hearing myself say in a daze. And It will all be worth it when it is finished....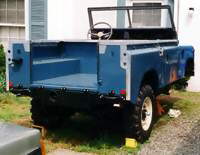 Or so I keep telling myself........
Well I finally painted the body parts and put them back on a virtually mechanically new 1974 Land Rover and for less than it cost when it was new no less. Not to shabby of a paint job considering the last car I painted was over 20 years ago and I did paint the body parts in the back yard. Only two bugs and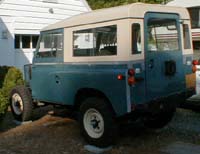 one virtually undetectable run (don't ask). I sure am glad that Land Rover still makes every part used on this vehicle because it seemed as though I needed all of them!!!!. It is just amazing to be able to order anything for it and have it delivered in two days!!!! It helps to have a factory parts book too I might add.
This is one project that I will be happy to see finished. But it is an English car and if it is like all of the rest of the English cars that I have owned I will be in it, under it, and over it a thousand more times before it finally leaves to torment a new owner.
After all it is only a two owner car with 90,000 miles on it ya know!!!!!